Welcome
Hey there, welcome to our community hub.
Things look a little sparse around here because you haven't registered and been cleared for access.  Don't worry.

Also, our trial members have many more things open to them.
If you happen to be from an outside party looking to get in touch with Brigade's administrators, by quickly registering you can gain access to our Embassy forum and message us there.
Interested in joining our team?
If so, please visit here
Activity Feed · Show What's New
6 days ago
Chief.
Neil
3.7 is LIVE.
Join-up this Sunday 13th with the CCC and fellow Brigade members and Citizens alike to the 3.7 launch party!  Starting from 17:00.
1st Oct
Chief.
Neil
wrote a comment about the news post
Chief's Letter #22
Brigade just got Twitch affiliated. Ha! - More stream news. But nice news none...
23rd Sep
Chief.
Neil
I've been rolling with our affiliates over at CCC for some events.  This was FUN.  30k shenanigans at the end.
19th Aug
Chief.
Neil
Crew and Collect.  New wreckage job from the mobi.  Pretty cool.  Unfortunatley Lorville racoons sliped the jackpot from under me.
8th Jul
Chief.
Neil
SC 3.6
hover mode . ship buy and rent . law system . ship hailing . face tracking . working combat. persistence
coming to a PC near you...
Whilst originally 3.6 felt pretty light, as it turns out, the new law system brings some cool new gameplay in the form of an
improved hacking mechanic
requiring crypto keys; different laws within different regions and selling illegal goods at various new locations within Stanton, such as the new junkyards.
Being able to
rent and buy
vehicles allows for reasons to make credits (I'm looking at trade and transportation gameplay this patch), and with components persisting even when a vehicle is destroyed, upgrading them now make sense.  You can, so I've been told, successfully log out in a bed to save your location now, too.
VOIP now includes local chat turned on by default, allowing us to talk and listen to anyone on the server nearby (I can't wait to tell someone to lower their weapon or I'll shoot); we can hail other ships and are automatically assigned a COMM channel for entering a vehicle, allowing us to chat to everyone onboard.
One of
my favourite new features
is the improved face tracking, which now can be used with a hold key bind.  As well as a new control layout/setup that I've invested time into, flight will feel fantastic this time.
Then there's
flight combat that works
, nice FPS improvements and some extra SFX goodies from CI's excellent sound team.
Oh, and not forgetting
hover mode
.
20th Jun
Chief.
Neil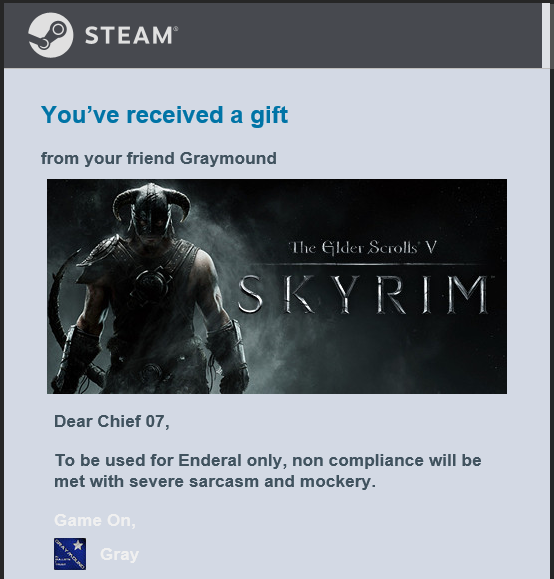 Thank you Gray, who understands my lack of games to play even tho I call myself a gamer and went on to let me know the gift is thanks for Brigade efforts, in which Gray recognises my passion and dedication.  Well, you are very welcome and I hope I can continue to do the same for many members to come.  I'm very much looking forward to entering Enderal, tomorrow morning!
Very cool thing to do, Gray.  07
1st Jul
Chief.
Neil
wrote a comment about the news post
Chief's Letter #21
...another website update in the next few days..? Hmm, maybe...
28th Jun
We've reached a record number of members, currently: 10
22nd Jun
Chief.
Neil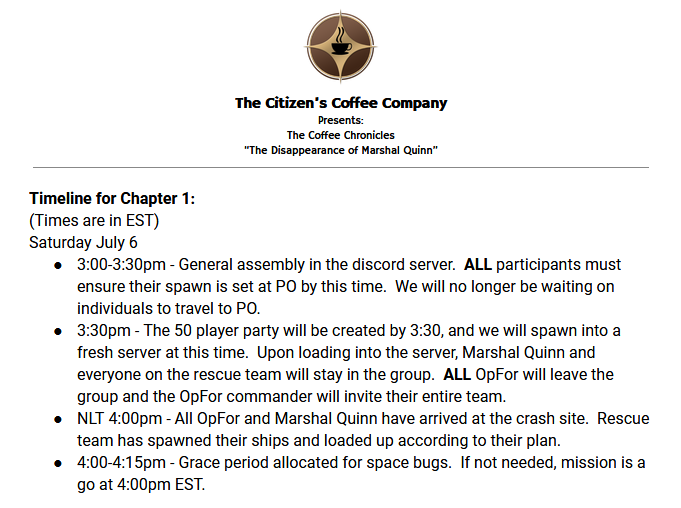 The dates are in for the CCC event above (click the pic):
6th July, 20:00

13th July

27th July
If you'd like to participate, please let me know.  I'll be joining them all, if time permits.  Take note that the events will go forward if 3.6 allows it, so if the bug-monster general (who I've named El Loco) arrives with their armies, I'll keep you posted.