Welcome
Hey there, welcome to our community hub.
Things look a little sparse around here because you haven't registered; our Trial members have many more things open to them.
If you are looking to get in touch with Brigade's administrators, by quickly registering you can gain access to our Embassy forum and message us there.
Interested in joining our team?
If so, please visit here
Activity Feed · Show What's New
6 hours ago
Chief.
Neil
@Malkolmi  ...thanks for the donation!  I added it to our site here.  Much appreciated, pal. 
Curious, where did you go/what function you used to donate?  This site from the
Merchandise
tab, via Streamlabs or something else?  I wonder as nothing reported to me other than PayPal.  Thanks again meh dude.  07
---
T.
Malkolmi
· I just found it on the webpage, to the right there was a small donation tab. Had to try it!
2 hours ago
---
20 hours ago
B.
Venoseptic
Feels good to be home
14th Feb
Chief.
Neil
Super support from Malkomi today (which if you didn't see - is captured on our live show this Friday).  Lots of fun had and more for the future, welcome aboard dude.
---
Chief.
Neil
· Looks around...hmm, where are they? Team?
6 days ago
---
B.
Venoseptic
· Was an awesome show! I will make sure to join next time!! Team ftw!
5 days ago
---
10th Feb
Chief.
Neil
Nice encounter in 3.8.  2020 is da year!
10th Feb
Chief.
Neil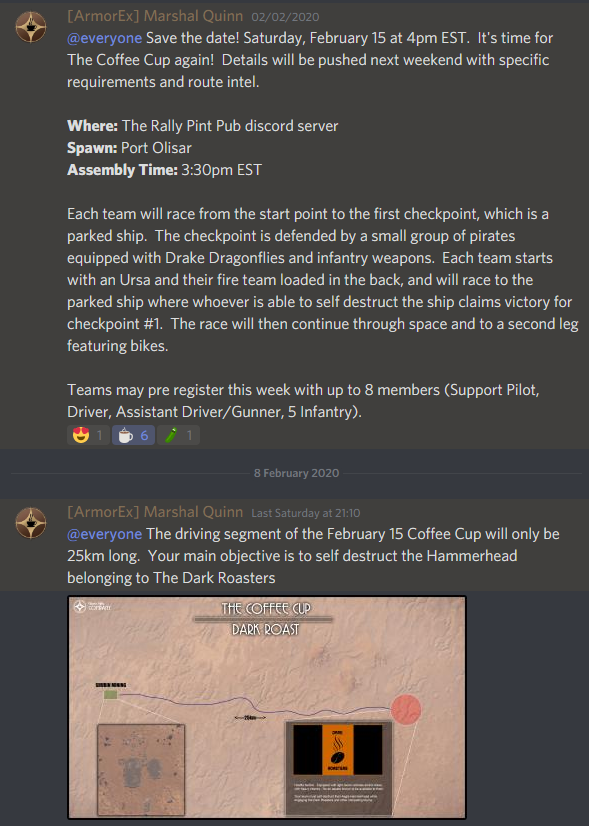 I'll be at the event, currently posted as the opposing force (OPFOR).  There could easily be more slots and Brigade members are welcome.  Speak up if interested.
5th Feb
Chief.
Neil
Thinking of running a giveaway (Terrapin and Dragonfly) to acquire new members and have a
forum for it here
for ideas so I can decide.
1st Feb
Chief.
Neil
1st of the month Chief's Letter is up.  Standard!  Keep an eye on the News section from time-to-time, cogs for news of all types and the occasional lore piece to boot.
28th Jan
T.
Gaul (Dudonja)
ahhh finaly i think i will have to play smething ..but.. ok this patch have less bags than any..BUT...i have errorrs every 15 min...and i lost everything i do..and again ..and again ..waiting for 3.8.2...
but i buz a bugy and put in frelancer heheh...ofcurse when i go out and try again erorr...damm
BR
Gaul
---
Chief.
Neil
· Yep, that's about right. Don't worry, I'll solider on for the two of us!
28th Jan
---
T.
AntonioPaladin
· i would suggest eu servers cause they are way more stable i was in for 8 hours straight no problems few days now
30th Jan
---
26th Jan
Chief.
Neil
I'm looking for help regarding flight manoeuvres in the PU.  Need one fighter-enabled team member (more welcome to come along).  This is for info into our Handbook version 3.7 coming up and a potential video.  Will take a couple of hours, probably.  That's very estimated.  No super-duper combat experience required.


---
Chief.
Neil
· UPDATE: all I'm looking for now, for the last section of the video, is one member to help with the 'head-to-head' manoeuvre. Will take place in Vanduul Swarm's first wave. A little practice beforehand but the manoeuvre is an easy one against pitiful Vanduul. Please hit me up...team.
30th Jan
---
24th Jan
Chief.
Neil
3.8.1 LIVE, Cogs.  Yipee! 

All-day Tuesday gaming is a GO.
Gotta get that cred and Mole - looking for a team.
---
B.
Venoseptic
· I can diffently join you Tuesday my dude!
25th Jan
---
Chief.
Neil
· Yeesh!
26th Jan
---
18th Jan
Chief.
Neil
We have a new menu page: Twitch.
Want to see it?  Look up there on our menu bar.

Pretty self-explanatory really.  All upcoming show info can be found on that page as well as the channel's video feed as well.  To keep Brigade's community here on the website, members (except Officers) can no longer get show information via Discord.