Welcome
Hey there, welcome to our community hub.
Things look a little sparse around here because you haven't registered and been cleared for access.  Don't worry.

Also, our trial members have many more things open to them.
If you happen to be from an outside party looking to get in touch with Brigade's administrators, by quickly registering you can gain access to our Embassy forum and message us there.
Interested in joining our team?
If so, please visit here
Activity Feed · Show What's New
8th Jul
Chief.
Neil
SC 3.6
hover mode . ship buy and rent . law system . ship hailing . face tracking . working combat. persistence
coming to a PC near you...
Whilst originally 3.6 felt pretty light, as it turns out, the new law system brings some cool new gameplay in the form of an
improved hacking mechanic
requiring crypto keys; different laws within different regions and selling illegal goods at various new locations within Stanton, such as the new junkyards.
Being able to
rent and buy
vehicles allows for reasons to make credits (I'm looking at trade and transportation gameplay this patch), and with components persisting even when a vehicle is destroyed, upgrading them now make sense.  You can, so I've been told, successfully log out in a bed to save your location now, too.
VOIP now includes local chat turned on by default, allowing us to talk and listen to anyone on the server nearby (I can't wait to tell someone to lower their weapon or I'll shoot); we can hail other ships and are automatically assigned a COMM channel for entering a vehicle, allowing us to chat to everyone onboard.
One of
my favourite new features
is the improved face tracking, which now can be used with a hold key bind.  As well as a new control layout/setup that I've invested time into, flight will feel fantastic this time.
Then there's
flight combat that works
, nice FPS improvements and some extra SFX goodies from CI's excellent sound team.
Oh, and not forgetting
hover mode
.
20th Jun
Chief.
Neil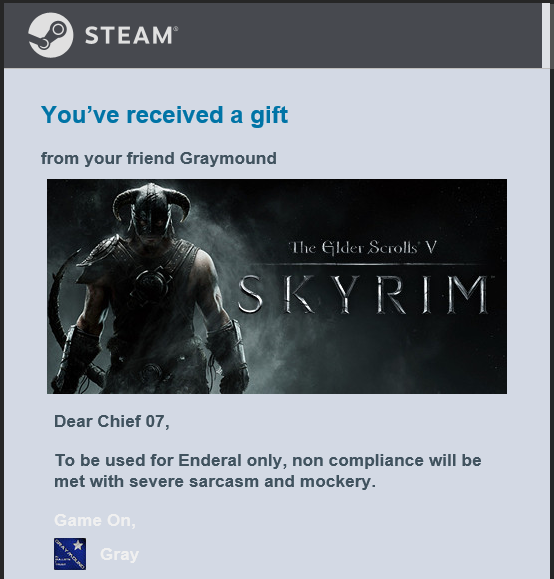 Thank you Gray, who understands my lack of games to play even tho I call myself a gamer and went on to let me know the gift is thanks for Brigade efforts, in which Gray recognises my passion and dedication.  Well, you are very welcome and I hope I can continue to do the same for many members to come.  I'm very much looking forward to entering Enderal, tomorrow morning!
Very cool thing to do, Gray.  07
1st Jul
Chief.
Neil
wrote a comment about the news post
Chief's Letter #21
...another website update in the next few days..? Hmm, maybe...
28th Jun
We've reached a record number of members, currently: 10
22nd Jun
Chief.
Neil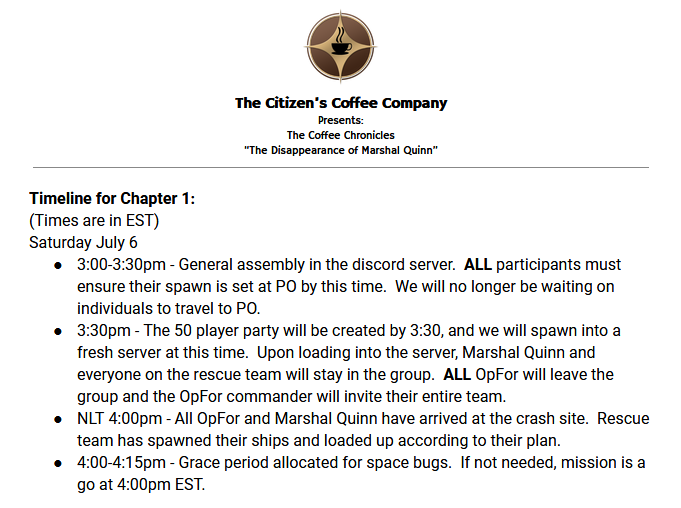 The dates are in for the CCC event above (click the pic):
6th July, 20:00

13th July

27th July
If you'd like to participate, please let me know.  I'll be joining them all, if time permits.  Take note that the events will go forward if 3.6 allows it, so if the bug-monster general (who I've named El Loco) arrives with their armies, I'll keep you posted.
21st Jun
Chief.
Neil
Hardspace episode 6.  You can easily watch this episode first before starting at the beginning but either way, this episode is very tasty.
20th Jun
B.
Graymound
received the award
Team Member
Providing and aspiring team values: Teamwork Camaraderie Helpfulness Sh...
17th Jun
Chief.
Neil
There's this,
@Graymound
... :

On offer ATM.  Co-op.  One of the other games I was talking about was 'A Way Out' - a prison break co-op game, looks very story driven in terms of interactivity.  Still searching for the FPS co-op game; I'll make a comment if I find it.
14th Jun
Chief.
Neil
For those of you looking at entering 3.6, here's probably all you need to know about the state of the game now and for what happens in a few weeks.  That's right, just 2-3 weeks before the next goodies.  Not massive amounts for 3.6 but extras nonetheless, including the anticipated hover mode (VTOL) and HUD/MFD updates (to the gladius only currently).  VOIP back in the game is also pretty awesome for chat to other random players; "drop your weapon or I'll shoot!"



4th Jun
Chief.
Neil
Likely live this week, the start of ship customisations.  Persistent in the alpha.  Everything can be obtained in game, or you can purchase a vessel and extras with RL money.  Not pay-to-win but if you happen to be well off these kinds of things can place you well ahead of the curve vs someone who isn't, SC is heavily a paper, rock, scissors and numbers game tho so I don't see it being important in any way.  Pretty cool.
1st Jun
Chief.
Neil
I'm taking part in the following story events from Citizens' Coffee Company, an SC org in which Brigade is affiliated with (let me know if you'd like to join as an individual).
---
Chief.
Neil
· I've been drafted for the opposing force (I get to be a pirate!) There are some places free still...
3rd Jun
---
19th May
Chief.
Neil
OFFICIAL!  This Sunday 26th May at 18:00utc I'll be playing through the newly released (this Tues) game, Observation.
It is a sci-fi thriller uncovering what happened to Dr. Emma Fisher, and the crew of her mission, through the lens of the station's artificial intelligence S.A.M. Players assume the role of S.A.M. by operating the station's control systems, cameras, and tools to assist Emma.
Stop by Brigade's twitch channel every Sun at 18:00 to join in and help win the story.
More Star Citizen to commence as 3.6 draws closer.
---
Chief.
Neil
· Playing through the game: Observation, turned out to be an adventure. With viewer Graymound helping to solve puzzles that little bit quicker as to not piss off Emma, our story protagonist (she doesn't like to be kept waiting). Yeah, kinda cool experiment for the channel. More next Sunday.
3rd Jun
---